The board in Norway consists of 5 members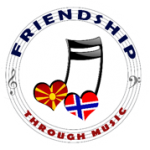 Sissel Grøndahl
Toril Romundset
Ruth K. Ausland (t.o.m. Dec 2014)
Ingrid Almås Berg (f.o.m Jan 2015)
Pia Gullichsen
Matias Romundset
Sissel is the founder and the current board leader. She iseducated in music and teaching, and works as a horn teacher, conductor and producer at Oslo School of Fine Arts. She is also a teacher at the Oslo City Steiner High School.
Toril and Ruth are mothers of former horn students. Pia, Matias and Ingrid are all former horn students of Sissel at Oslo School of Fine Arts. Pia and Matias is currently undertaking studies in respectively Performance Technology and Political Science, whilst Ingrid is working as a Civil Engineer.
Ingrid og Pia
Matias
Toril, Sissel og Ruth
In addition to the board, FTM has a coordinator and a team in Macedonia:
Nikola Velkovski is the executive manager for FTM in Shutka, and Tashko Todorov is the pedagogic manager. Together with Aleksander Nikolovski, they teach at the FTM music school in Shutka, alongside their daytime jobs as professional musicians, professors at music high school INL and the music faculty.